Dear Players,
on the weekend there will be a Flower Event and an EXP/Drop/Yang bonus of 15%.
Both events will start on 18.09.2020 at 18:00 CET and end on 20.09.2020 at 23:59 CET.
The following is an explanation of the Flower Event: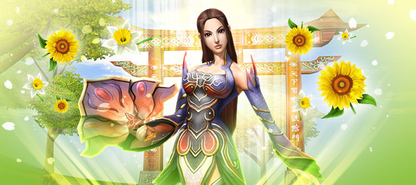 Flower Event
During the whole event you will be able to get five different
Flower Seeds from all Metinstones from level 45.
~ Metinstones between level 45 and 90 always drop one
Flower Seed. ~
~ Metinstones between level 95 and 105 always drop two
Flower Seeds. ~
~ Metinstones from level 110 always drop three
Flower Seeds. ~
As soon as you got 10
Flower Seeds of one kind, they automatically turn into a
Flower.
Bosses outside of dungeons always drop 1 of 5 different
Flower Chests.
These chests contain between 1 and 3
Flowers.

Once you got 3
Flowers of all kinds, you can exchange them at Soon for a
Chest of Botany.
This chest contains the following items.
Chest of Botany
10.000.000 Yang

500x Enchant Item

25x Transform Costume

35x Enchant Costume

Experience Ring (3h)


Experience Ring+

Potion of Wisdom(1h)

Rarity-Boost

Blessing Scroll

Magic Stone

Ritual Stone


Blacksmith's Theory

10x Clam

White Pearl

Blue Pearl

Blood-Red Pearl

Green Pearl

Violet Pearl

Yellow Pearl

Pendants

Herbs

Rarity Adder

Dungeon-Glass


Boss-Tickets

Protein-Snack(25%)

Oneiric Soul Elixir (G)

Celestial Soul Elixir (S)

Cor Draconis (Rough)

Cor Draconis (Rare)

Cor Draconis (Legendary)


Colored Lord Sashes (basic)